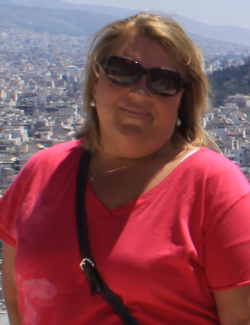 P: 801-483-5285
E: wfracchia@morrismurdock.com

Office Hours:
9:00a - 6:00p (M-F)

Office Address:
Morris Murdock Escorted Tours
515 South 700 East Suite 1B
Salt Lake City, UT 84102

Office Map: Satellite Zoom
Need Google Earth? Download


Wendy Fracchia
, Tour Specialist
Travel Industry Start Date:
1988
Destination Specialty:
Areas of Expertise:
Family, LDS History, Group, Cruise, Missionary Pickup,
Destination Expertise:
LDS Church History Sites in North America, Israel, Egypt, Italy, Greece, Hawaii, Guatemala, Southern California, Orlando, Las Vegas, Cruises, Bahamas
Lifestyle Expertise:
LDS Church History Tours, Adventure Travel, Family, Cruises, Group Escorted Bus Tours, Mayan Sites
Places I've Traveled:
Biography:
I have loved travel for as long as I can remember. At the age of 8 I asked if I could fly by myself to see my grandparents in a neighboring state which they allowed and I've been hooked since.

Right out of high school I started into travel school and have had the opportunity to work in many aspects of the industry. I have had great experience with time spent doing hotel management, vacation sales as a travel agents, a corporate travel agent, teacher in travel courses, inside sales support for independent travel agents to my current love in group and escorted tours.

In every aspect I have worked I have had the opportunity to help people travel, to help fulfill people's dreams, what could be better to do every day!

My biggest addiction is travel. I pray I will live long enough to see it ALL!


Customer Comment:
"Thank you Wendy for all your planning and efforts to ensure that we could enjoy our tour and bring back such wonderful memories."
-Stan and Suzy Young

"Thank you for your cheery attitude and hard work during the planning of our tour"
-Bro and Sister Baird

"Thanks for your patience and efficiency. Let's do it again sometime very soon!"
-Dale and Virginia Nelson "
Recent Travel Photos: (Click to enlarge)